Description:
This is a beautiful signed giclee on canvas by artist Abrishami Hessam. It is titled Share the Moment. This rare Printer's Proof is number 5 of 5 and comes with an Estimate of Market Value (Certificate of Authenticity), which was re-issued in September 2017 by the artist.  The artist also placed a value directly on the COA's of $3,700.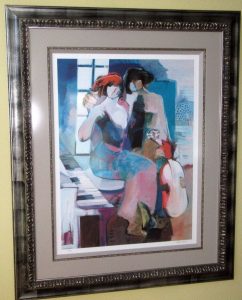 Details:
Artist:  Abrishami Hessam 

Title:  Share the Moment

Medium:  Giclee on Canvas

Date of Creation: 1999

Location of Workshop:  Canoga Park, CA

Signed:  Signed (front) 

Limited Edition:  Printer's Proof 5/5

Height:  32″ 

Width:  24″

Framing:  Framed and Matted
Click here to view this listing on Kelly's Collectibles Ebay Store.