Description:  
Beautiful 
.60 Carat 14K White Gold 3 Diamond Engagement Ring. Includes EGL USA report. On either side of the center diamond is a round brilliant diamond.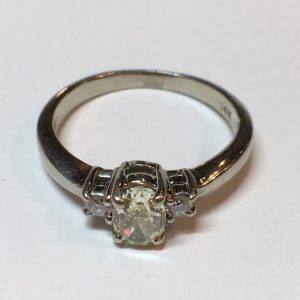 Appraisal dated May 8, 2010 from Ferro Jewelers in Vermont is included with a value of $4,500.  
Details:
One center oval cut natural light yellow diamond
Prong set in four gold prongs
Diamond weight 0.60 ct
Shape and cut: oval brilliant
Clarity grade: VVS2
Measurements: 6.03 x 4.43 x 2.91 mm
Fluorescence:  strong blue
Color Grade: fancy light yellow
Distribution:  even
Small diamond weight 0.15 ct each
Band marked 14K
Click here to view listing on Kelly's Collectibles Ebay Store.