Description: 
Original Oil Painting on Canvas by Russian Artist Vladimir Vitkovsky.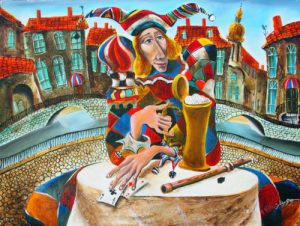 Details: 
Artist: Vladimir Vitkovsky (artist bio below)

Title: Mug of Beer

Size: 40″ tall x 30″ wide

Framing:  Stretched, not framed

Medium: Professional artists grade oil paints

Artwork Description:  Jester with mug of beer

Signed:  Yes
About the Technique: 
Vitkovsky's oil paintings transport viewers from the representational into the abstract world. His application of paint is a dramatic contrast between thin, luminous layers and heavier impasto. The artist couples heightened realism with blurred, fluid edges.
Vitkovsky also incorporates a "splattered paint" technique used as a counterpoint representing the elements of chance and the irrational in human experience. Nonetheless, in this bridge between the real and the surreal, the viewers regain their own center and a sense of humanity. This same process is evident in his inks on paper. Once again, we are enchanted by the magic and function of his art in bridging the two worlds. Vitkovsky creates a conduit between the worlds and invites the viewer to take a stroll.
Click here to view listing on Kelly's Collectibles Ebay Store.